26 March 2012
Trish Stratus has announced that there is a chance of her returning to the wrestling ring but only if Beth Phoenix is there to fight her.
The WWE Diva legend, real name Patricia Anne Stratigias, ruled the circuit achieving seven WWE Women's Championship wins as well as WWE Hardcore Champion and three WWE Babe of the Year awards but retired in 2006.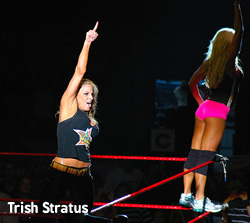 Since then, she has appeared on several occasions including a bout at WrestleMania 27 but Stratus has never had a dream one-on-one contest and a battle against Beth Phoenix is now her goal.
Stratus has revealed that she left professional wrestling because her body was beat but she believes she is now healthy and strong and got a lot to offer in a battle with her new found nemesis. And this obvious to anyone that has seen her modelling or acting recently.
With her movie debut in action movie Bounty Hunters later this month, Stratus shows us moves that herald back to her days in the ring and demonstrates the great physical condition she is now in. Stratus sights Iron Man as a huge motivation in her moving into acting as she realised that wrestling and action sequences were not that different, letting us see a very different side of the Trisha Stratus we have come to know.
Wrestlemania 2011 saw Stratus team up with John Morrison and Snooki to battle against LayCool and Dolph Ziggler but the challenge was marred by behind the scenes fighting with Morrison. With Stratus' belief that with every return to wrestling she comes back better than before any match against Beth Phoenix is going to see all the fighting happening right there in the ring. So watch this space to find out if Phoenix will pick up the mantle and a new super match is born.