Female wrestling & wrestlers of note
Adding the feminine touch!

Traditionally female wrestling has never been as popular as its male counterpart however it did gain a huge boost in 1955 when ITV started to televise significant female wrestling matches on a Saturday morning. This move significantly boosted the popularity of the sport and enabled some of the leaders in the field to get their name out to the public and develop a significant fan base as never before.
Mitzi Mueller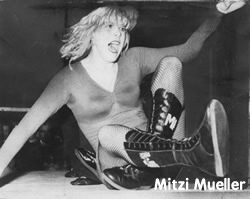 The biggest name in UK wrestling in these early years was Mitzi Mueller who started her professional career in 1963 at the age of just 14. Trained by her father Joe Connolly, Mitzi won the British Ladies Championships in 1972 and held the title of European Ladies Champion from 1975 to 1990.
Partnering with Rusty Blair, Mitzi was one of the first women to wrestle in a big venue when the ban against female wrestlers was lifted in 1987 and took on Klondyke Kate and Nicky Monroe in the Royal Albert Hall.
Louise Lockwood
In more recent times the world of UK female wrestling has been dominated by Louise Lockwood. Like Mitzi, Louise started her professional wrestling career at 14 and quickly moved to the top of her profession dominating both the UK and international scene.
Louise initially tried many combat sports before entering professional wrestling and has used her experience and love of combat to achieve titles including British Ladies Champion, Intercontinental Champion and British Tag Team Champion.
Michelle Madison
As it happens, Louise's biggest opponent and greatest enemy in the sport turned out to be Michelle Madison, her own sister. Michelle followed Louise into the sport after seeing the success of her sister on the International circuit.
Michelle herself is gaining incredible support for her enthusiasm and energy and her no holds barred approach to the support, even when she is in the ring with her sister. Michelle's favourite move is the Boston Crab, though she is now incorporating more high flying manoeuvres in her repertoire to support her ground wrestling skills which is making her a serious contender in every competition she enters.
Louise and Michelle make up two of the key personalities in the Ladies in Combat group, a team of UK women wrestlers dedicated to getting to the top. This team also includes powerhouse Kirsten Scot who has been a life long friend of Louise Lockwood and was inspired to join the group by her good friend and adversary. Previously voted the Most Up and Coming Wrestler by the BWA, Kirsten looks forward to title bouts with her close friends as when she gets in the ring it is all about the win.
Self proclaimed as the 'Hardest Working Women in Independent Wrestling', the Ladies in Combat team have a dedication to not only progress their own careers but also train up and coming new female talent on the UK wrestling circuit. And through this commitment not only to each other but to women's wrestling as a whole, we can see a great future for female wrestling in this country and hopefully a great future for the women who are working so hard to get to the top of their game.