Notable wrestlers no longer with us
(In)famous Wrestlers of yesteryear!

Lou Thesz
When it comes to the wrestlers in history, we can only start with the late, great, Lou Thesz (April 24, 1916 - April 28, 2002). Lou has contributed more to the shape and popularity of professional wrestling than any other contender in the history of the wrestling community.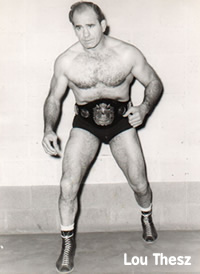 Lou was not only a great wrestler achieving 18 world heavyweight championships, including the NWA World Championship six times, but he also became a role model for many more recent wrestling professionals. His flair and skill in the role has been the inspiration for many wrestlers since. Lou is credited with inventing a number of the holds that modern day wrestlers now use and even has the infamous Lou Thesz Press continuing his legacy throughout wrestling history.
Thesz made his professional wrestling debut in 1932 and had achieved his first National Wrestling Association World Heavyweight Title beating Everett Marshall just five years later.
Thesz worked tirelessly to unify all existing world titles into the one NWA World Heavyweight Championship and in 1952 became the first undisputed Heavy Weight Wrestling champion. Taking his championship bout to Japan in the late 1950's created a popularity for wrestling in Japan that remains to this day.
Even after retiring in 1979, Thesz came back to fight his last match in Hamamatsu in Japan in 1990 making him the only wrestler to wrestle in seven different decades.
Big Daddy & Giant Haystacks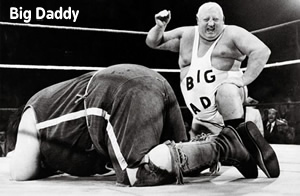 When it comes to British wrestling legends, the first name that jumps to mind has to be the late, great Shirley Crabtree, or Big Daddy as he was better known. Famous for his containing his outstanding 64 inch chest in the traditional wrestling leotard, Big Daddy brought UK wrestling into the homes of many.
With a background in Rugby League but with a temper not suited to the sport, Shirley turned to wrestling and achieved great popularity. Creating his character of Big Daddy in 1974, initially as a heel in wrestling, it was Big Daddy's relationship with Giant Haystacks as a heel tag team that started his rise to fame.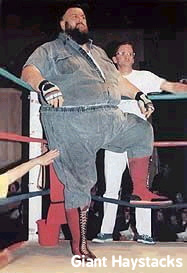 After a feud with Kendo Nagasaki, Big Daddy made the transformation to a Babyface in wrestling and captured the nation's hearts when he broke away from Giant Haystacks, the result of which was feud that lasted well into the 1990s.
Big Daddy became an inspiration to children and adults alike across the UK and would always make time for them before a bout. Wining the European Heavyweight Championship twice and the British Heavyweight Championship in 1960, many of Big Daddy's wrestling moves incorporated his oversized belly to trap his opponents, finishing with his signature move the 'Body Splash' where he would jump down onto a fallen opponent to pin and gain the final victory.
Towards the end of his career, Big Daddy would solely work in tag team wrestling as the man behind the ropes where his team mate would use his massive stomach to rebound the opponent in an orchestrated body charge. A great representative of British culture, and a fantastic wrestler.