Billy Riley
Real Name: Billy Riley
Aliases: Dark Owl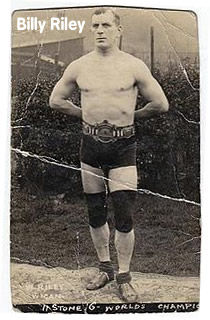 DOB: 1896 (Know more? Please tell us)
Died: 09/1977
Born: Wigan, Greater Manchester, England
Spouse: Was he married? Please tell us
Debut: 1920s
Stats: Height & Weight? Know this? Please tell us
Trained: Billy Robinson, John Foley, Karl Gotch, Ernie Riley
Signature Moves: 'Hooker' (known for breaking opponents' arms)
Finishing Move: Hooker
Opponents: Jack Pye, Bill Garnon, Lord Alfred Hayes, Karl Reginsky
Title History:
British Middleweight Champion
World Middleweight Champion
Career History: Riley was a notable figure on the wrestling scene for over 20 years and his career started in the 1920s. He won several titles including British and World Middleweight Champion before he built his own gymnasium called The Snake Pit.
The gym produced many wrestlers of note including John Foley, Karl Gotch and his son Ernie Riley. He trained youngsters at his gym until he died in 1977.
Match Video - None to show yet