Adrian Street
Real Name: Adrian Emrys Street
Aliases: 'Exotic', Kid Tarzan Jonathan, The Nature Boy, Hell's Angel No. 1
DOB: 5/12/1940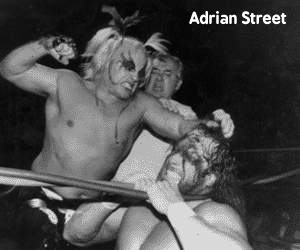 Born: Royal Forest of Dean, England, UK
Current Location: Gulf Breeze, Florida, US
Spouse: Miss Linda
Debut: 1957
Stats: Height 5' 7" Weight 235 lbs
Trainer: Self trained
Signature Moves: Cross Bodyshock, Crucifix
Finishing Move: The Sleeper
Feuds: Al Perez, Relampago Leon, Rip Rogers, Wendell Cooley, Austin Idol
Contact: bizarebazzar.com
Title History:
Europe World Middleweight title 1976 & 1979
NWA Americas Heavyweight title 1982
NWA Americas Tag Team title x2 1982
Florida Heavyweight title 1983
SCW Southwest Junior title 1984
NWA Southeastern Heavyweight title 1985-1986
Where are they now?
Street currently resides in Gulf Breeze, Florida where he and his wife manufacture wrestling costumes. In 2010, he competed in Wrestle Birmingham with his wife where they defeated Aeon Flux.
Match Video - Adrian Street vs Chris Adams (1984)